TCHP Success Stories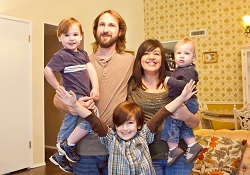 Celestina's Story
"We're at home and loving it!"
Celestina has a lot on her plate: a full-time job, kids, and until recently, graduate school. But she didn't let any of that stop her from working with TCHP to help her family achieve its dream of homeownership.
Celestina found a home in Fort Worth that's a perfect fit for her family's needs, and the mom of three said it wouldn't have been possible without the resources she accessed through TCHP.
"My husband is a stay-at-home parent, and while I was getting my MBA I worked in retail," she said. "So it never really worked out that we could save enough. The TCHP program helped us tremendously, because there's no way we would have ever had the money for a down payment.
"The program also helped us learn about budgeting, and helped us learn that we're spending more money on this or that than we realize," Celestina continued. "The counselors helped me learn how to raise my credit score. They helped me learn how to choose a home inspector and a realtor."
Celestina is now a new graduate, with a new job in the healthcare field---and she's also a new homeowner.
"We looked at a lot of houses and thought carefully about where we want to raise our family," she said. "We ended up selecting a three-bedroom, two-bathroom house in a well-established neighborhood. As a family of five, a house with a lot of space was important to us. We're also only three blocks away from the elementary school, which was definitely a plus.
"With some hard work, and thanks to this program, we were able to make our dreams a reality and buy our first home," she said. "We're now at home and loving it!"
Eunice's Story
"I love the freedom of being a homeowner."
Eunice's TCHP success story began with a stroke of good luck--she happened to work one day near a colleague who had gone through a TCHP homebuyer program.
"I was talking about how I had been living in an apartment for so long, and how I was tired of the rent going up," said the Fort Worth resident, who works in consumer collections. "He told me about Tarrant County Housing Partnership and I picked up the phone."
Eunice originally intended to inquire about TCHP's rental properties, since she didn't feel that she could swing a down payment for a house. But as she learned more about the first-time buyer program, she began to think that homeownership might be in her reach after all.
"I love TCHP's process," she said. "The homebuyer orientation is the enlightener for anyone thinking about buying a home. The staff is to-the-point and tell you up front what you need to do.
"I didn't know anything about the homebuying process in the beginning, but the staff was knowledgeable and enouraging," she said.
Today, Eunice lives in a three-bedroom house with a big backyard and a two-car garage. "At first I thought I couldn't qualify for the house, but this program made it possible," she said. "I love this house and I love the freedom of being a homeowner. Nobody can tell me where to plant a flower or hang a picture, and I have something to show for the money I pay each month.
"I tell people that TCHP didn't give me the house, they helped me make it happen for myself," said Eunice. "If you do what the program asks you to do, you can become a homeowner. I love telling people about TCHP."
Halli's Story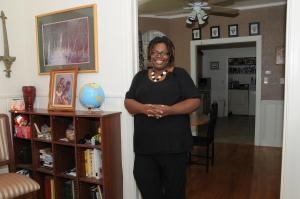 "If you want it badly enough, you'll make it happen."
In October of 2008, Halli realized her long-held dream of living independently in her own home.
"I was on government housing assistance and had been trying to lift myself out of housing for many years," said Halli, a single mother of two teenagers. "But it was a circumstance where many things have to click into place to make it happen." Connecting with Tarrant County Housing Partnership was the key, it turned out, to making everything happen for Halli and her family.
Although the Arlington mom was juggling work and school while trying to secure an affordable, attractive home, she said that the "can do" attitude and expert assistance of the TCHP staff made a critical difference.
"The TCHP staff was always very positive," said Halli. "My credit score wasn't the greatest, and as a part-time employee, I didn't know how I would save enough for a down payment.
"But I never got the feeling from them that I was a lost cause," she said. "And that helped me be more positive towards the things I needed to go on to do to make [purchasing my first home] happen."
TCHP helped Halli "with every little thing", including credit score management, budget education and down payment assistance.
Today, Halli is one semester away from completing her associate's degree and still successfully managing school, family, work and volunteer commitments while making her house payments. She and her children live in 2400 square-foot home with hardwood floors, three bedrooms, a back yard and spacious closets.
"I initially said 'no way' when I first saw the house," said Halli. "It was so nice, I assumed I couldn't afford it.
"There's no way I could have done it without TCHP," she said. "I'm still making the payments because TCHP cared enough about me and my future to help me get into a situation where I wouldn't be in over my head.
"For anyone who is in the same situation and is thinking 'I've got too much on my plate' to make it happen--you can do it," she said. "If you want it badly enough, you'll make it happen."