ABCs of Credit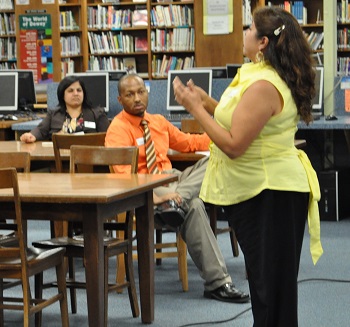 Fall 2013:
Tarrant County Housing Partnership's Veronica Elizondo, the organization's housing program director, served as a guest presenter at "ABCs of Credit", a community education event sponsored by OmniAmerican Bank.
The free seminar, held at Fort Worth's Poly High School, featured a presentation by OmniAmerican's Chad Kerr, who spoke about the importance of understanding credit and credit management. Elizondo, a veteran affordable housing professional, discussed first time homebuying with event participants.
"We always welcome the opportunity to team up with our partners in the financial services sector and spread the word about our programs, and about what it takes to become a homeowner," said Elizondo. "We need more organizations to follow OmniAmerican's example and host events that increase the community's access to information."