Hillside Community Celebration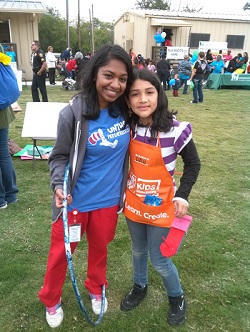 October 2013
Tarrant County Housing Partnership teamed up with the Morningside Children's Partnership to host a community celebration at Carroll Peak Elementary School, in Fort Worth's Hillside neighborhood.
The free event was held during National Lead Poisoning Prevention Week. TCHP is an official partner of the City of Fort Worth's Lead Safe Program, which provides free screenings, lead abatement assistance and other services for lower-income households at risk for lead paint poisoning. A Lead Safe program representative was available at the Hillside celebration to distribute program literature and answer questions from the community.
Event guests also had the opportunity to visit a number of community information booths, participate in free child ID and flu shot programs, play carnival games and enjoy hot dogs and drinks.
"We are so lucky to have such great partners that are dedicated to changing lives and improving neighborhoods and we look forward to working with the Morningside Children's Partnership on the upcoming neighborhood clean-up and tree-planting event," said Donna Van Ness, TCHP's president.
"It's especially exciting for us to interact with the residents of the Hillside Morningside community as we are about to begin construction of new, affordable, energy-efficient homes for sale throughout the neighborhood," she added. Learn more about TCHP's Hillside development.
Event Sponsors
~ Tarrant County Housing Partnership
~ Morningside Children's Partnership
~ City of Fort Worth
~ UNT Health Science Center
~ The Home Depot
~ Fort Worth ISD
~ Adopt-A-Block