Lead-Safe Program
If you live in an older home, you need to know about lead-based paint.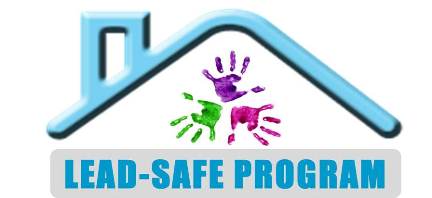 If you know or suspect that you live in a home that was built before 1978, and if you have young children in the house, it's important that you take steps to protect them from the dangers of lead paint. It's also important to know that free assistance may be available to you through the City of Fort Worth's Lead-Safe Program.
Lead is a metal that's highly toxic when ingested through breathing, eating or drinking. It was commonly used for interior and exterior house paint until it was banned for residential use in 1978. Lead is especially dangerous to children under six because their bodies tend to absorb lead more easily than adults and older children.
Lead contamination typically occurs when old paint flakes, chips or turns to dust, or is shaken loose through home renovation activities, leading to the spread of contaminated flakes on surfaces throughout a home. Children who accidentally inhale, drink or eat lead can develop serious health issues, such as:
~ Reduced IQ development
~ Speech, language and behavior problems
~ Slower growth
~ Hearing loss
In the effort to help Fort Worth families protect the health of their children, The City of Fort Worth and Tarrant County Housing Partnership are teaming up to increase awareness of the importance of lead-safe environments and to provide information about Fort Worth's new Lead-Safe Program.
About the Lead-Safe Program
Free services available to eligible families include:
~ Lead-based paint home inspections.
~ Medical testing for children under six.
~ Repainting of interior and exterior home surfaces.
~ Specialized cleaning techniques to address lead dust.
~ Replacement of lead-contaminated doors, windows and siding.
~ Treatment of contaminated dirt around the home.
How to get help
To qualify for free assistance, the total household income of the home in question may not exceed certain limits ($55,350 for a family of four, for example) and the home must be located within Fort Worth city limits. Additionally, a child under the age of six must reside in the home or spend a significant amount of time there. Learn more about program requirements.
To learn more about the Lead-Safe Program, contact Tarrant County Housing Partnership at 817.924.5091 or at admin@tchp.net.
Or, you may contact the City of Fort Worth at 817.392.7444 or at LeadSafe@FortWorthTexas.gov.
Other resources
If you're a Fort Worth resident concerned about your risks, but you don't qualify for the City's Lead Safe services, or if you live outside of Fort Worth and want to know more about making your home lead free, visit these resources:
Department of Housing and Urban Development
Centers for Disease Control and Prevention
Help us spread the word
You can join the effort to keep our community's children safe from lead contamination by inviting a TCHP staff member to speak at your special event, or by posting information on your organization's website or social media pages. Contact us info@tchp.net or at 817.924.5091 to learn more.
Download a toolkit of ready-to-go Lead Safe Kids marketing materials.